The Pyramid of Engagement: How to Use Video in Sales
Sales leaders are constantly on the hunt for the next sales secret weapon. The pandemic only accelerated this process, and new ways of communication have emerged that have replaced in-person meetings in the sales processes.
Video tools have become one of the most popular with sales reps. Why is that so? And how to use video for sales to increase the effectiveness of each contact with your potential customers?
Why are videos so effective?
Let's look at The State of Video Research Report from Demand Metrics, which researched the role of videos in the business every year since 2014. It clearly states the key facts confirming video content's growing role.
Almost 93% of 700 participants noted that adding video to sales proposals gives better conversion rates than other formats. Want to accelerate deal cycles? — Prospecting video is your go-to strategy.
The number of companies that create more than 51 videos a year has increased by 261% over the past 2 years. Video reminders, webcam, follow-up, and one-to-one videos – choose the one that suits your sales process, and don't stop.
82% said that videos have become more critical in their work as an instrument to communicate with customers. A video is a powerful tool for establishing human connections and building relationships.
So, we can't deny that video selling actually works. But the question 'Why?' remains open. We need to discuss some psychological aspects of human nature to answer it. And precisely how different types of content affect a person.
As you can see in The Pyramid of Engagement below, the most potent instruments of personal connection are video meetings and video postcards. They are more engaging than phone calls and emails because they are closer to a face-to-face level.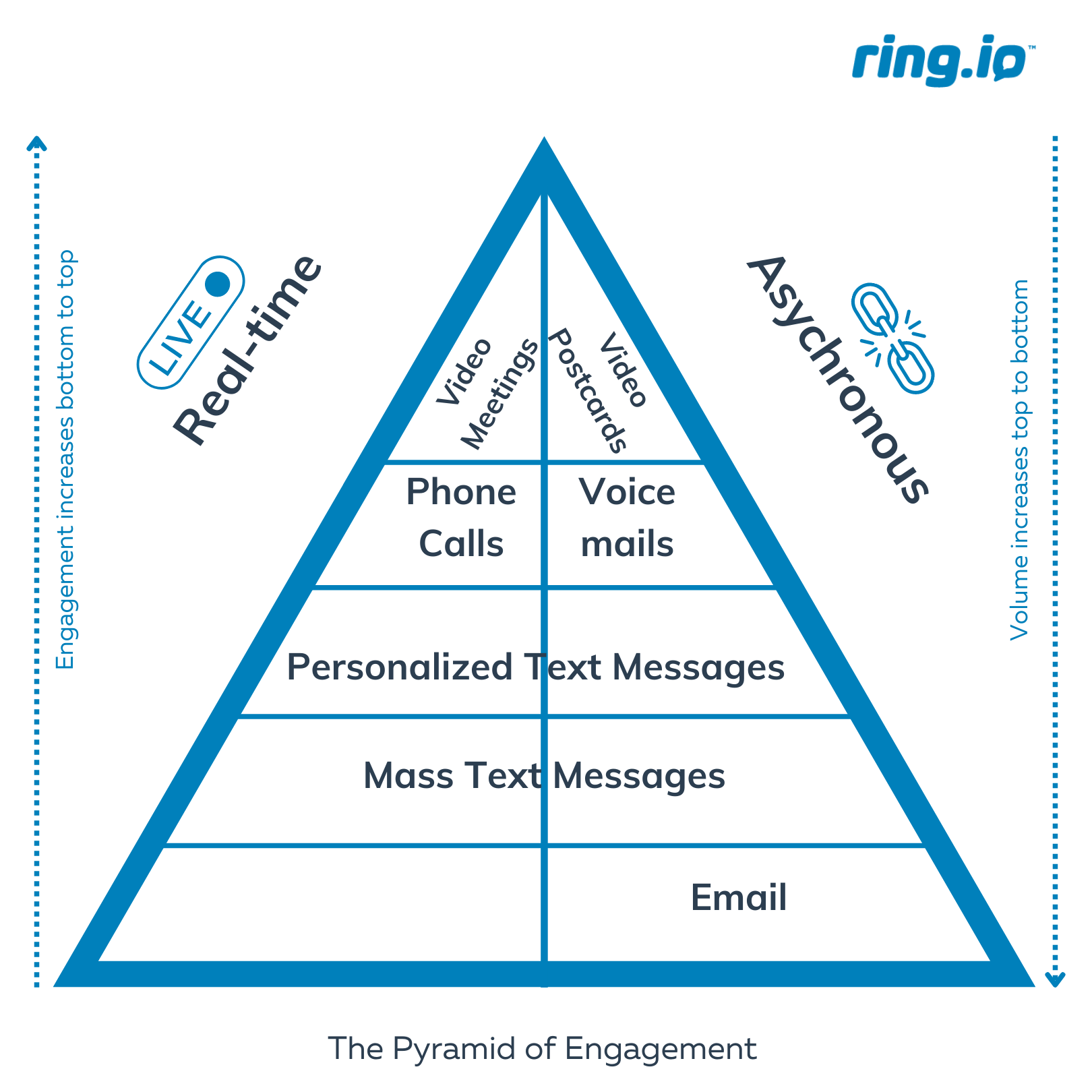 These data can be easily explained by human psychology. After all, initially, we communicated only face-to-face, so it is the easiest way for our brains to perceive and process information.
An interesting fact:
Information from videos is processed 60,000 times faster than from text. What does it mean to a sales rep? You will close deals faster and more easily and need fewer touchpoints before someone becomes your client.
More reasons to use video for sales
The second reason to use sales videos is that they increase your credibility and give your customers a lot more information in personal. But, of course, you can write a long text about your product features or company history. But to be honest, most people don't trust any information easily. They are critical, sophisticated, and well-educated. And when they see a personalized video message or speak to you via video call, they trust you faster. So a person buys from a person; that is a universal truth.
"We all took a step back when Covid pushed everything virtual. The video gives you an opportunity to connect emotionally…"

Angela Lombardo – Sales, Marketing Specialist at APEX Analytix
Pre-recorded video emails in the sales process
The third reason will appeal to email fans. You can increase the effectiveness of this method by combining it with a video format and making video sales emails. According to the report of Demand Metrics, 47% of organizations already use emails with videos in their sales process.
Also, research from Wistia, a video software company, shows that video email increases conversions by 300% on average. As a result, your emails appear to be like a personal touch that is more engaging, as well as memorable.
No, creating videos is not an easy task. And producing even a single video can require substantial effort. But try to start with a quick video and use it as much as you can: share it with your sales team, put it on some video platform, send it to the target accounts, give it to your marketing team, use it on the prospecting stage, or even in the email signature.
When to use video in the sales process?
You can use this instrument at any sales cycle stage, from the first touch to the post-sale. Then, of course, you should combine it with other communication channels. Although it is hard to talk face to face, don't forget about traditional phone calls and sending personalized content.
And remember the primary purpose of why you make your videos. Of course, you want to catch customers' attention and sell your product. But you won't achieve your goals if you don't provide any value to your customers. So, focus on that and talk about the benefits that a person will receive from cooperation with you, covering their pain points. Make a value proposition for them in an accessible and straightforward way.
What types of sales videos can you use?
You can, and even should, use videos at any sales stage. We can divide them into 4 main types depending on their role.
Webcam video
It is also known as a prerecorded video. You can make it and add it to your emails, especially on the first step of the selling process when you start communicating with a potential customer.
Screen share video 
When you are trying to share complex but important information, there is nothing better than to show what it is about. You can use a real-time screen share video, or add it to your email.
Personalized video
You can use a video created by the marketing department, add personalized details, such as a subject line, and send it to some of your customers with the attached proposal. It is a good instrument because you don't need to make videos for every person, but it doesn't look spam. And when the prospect watches it, they feel as if they were speaking directly to you.
Video call
Unlike the previous three types, which belong to the asynchronous video content, video calls are happening here and now. This gives the advantage of live communication, which always has the most significant impact on anyone.
You can use this instrument when you already have a good relationship with a customer and want to push him to go further through the sales process.
Ring.io's Video for Sales feature allow you to do just that – make video sales from your dialer:
invite a customer from an ordinary call to join a video call with one click (they will receive a personalized link)
start a screen-sharing session at any time during your video call
share your webcam and show your face, or do not – it's your choice
How to make a sales video of high quality?
Let's go back to psychology. Modern life is so busy and full of information that our brain filters it more strictly than ever. Most people don't read all emails as well as they don't watch videos from start to end. So, make sure your videos are short and informative. Quick tip videos should be less than 30 seconds, and product-related content may be up to 3 minutes.
Also, try your best to make high-quality videos. Fortunately, there are a lot of opportunities for this.
Make sure that you have good lighting. The ideal option is natural sunlight, but a bright desk lamp might be a decent alternative.
The backdrop of the video should be neutral. Nothing should distract the person who will watch it.
Sound should be clear and crisp so that noise doesn't interfere with your client to perceive information.
Prepare scripts not to miss anything and to be concise.
We highly recommend using props in your videos. It could be any interactive element, such as whiteboards or some equipment you need to visualize your words. So, yes, the primary purpose of props is to make your content even more visual. But it would be best if you used it correctly. Please do not overload your sales videos with it; make sure that it helps you but not the opposite.
What video tool can the sales team start to use right now?
It can be hard to create videos for sales immediately. You must practice a little and prepare some place and equipment for that. But there is something you can do even now. And we are talking about sales video calls.
Most sales teams use CRM. Salesforce, Hubspot, Zoho CRM, Pipedrive, or Zendesk. Do you use any of these? Then, Ring.io can help you to improve your sales process by making video calls straight from your dialer, connected with the CRM system.
Our Video & Screenshare feature have some advantages:
It is easy to use. You don't need to have any other apps; you do everything in your favorite CRM. So, you can save time and make your work more effective.
It is comfortable for you and your customer. You can start with a simple call, but you can show your screen in video mode when you need to share some visual info.
All the information is here. You can quickly learn it before calling and answer quickly to the questions if you have some.
You make your traditional sales calls more effective.
So, are you ready to produce and use more sales videos?
If you're not convinced by all the research and data above to use more video sales footage, ask your sales reps and your sales managers at the closest upcoming meeting.
Listen carefully to what they have to say about sales videos.
And yes, it might be expensive to create videos. But the amount of new business you can attract can easily outweigh it.
Good luck to you with your first video, and get more meetings!
0 thoughts on "The Pyramid of Engagement: How to Use Video in Sales"